What is CBDPure?
CBDPure, is an oil obtained from the hemp plant, part of the  cannabis family, but is non-psychoactive ie it is non-narcotic. This is hugely important for a number of reasons which I shall touch on as I go through my explanation. The company, entirely family-owned, is well-established and based in Vancouver.
The cannabis plant chosen by CBDPure is a certified organic-standards,hemp plant, grown with care and attention in Colorado. Being certified as organic (by CBDPure) is very important because it means that no pesticides or herbicides are permitted – additionally, each batch is checked by a third-party laboratory.
Why I stressed above that the product is non-narcotic is of great consequence because of the reputation that THC has developed over the generations. That CBD, or cannabidiol to give it's full name, can do what it can do, without the assistance of the narcotic contained in THC is something that many find quite astonishing. I certainly did when I came across CBD and was for a while quite scornful believing that its reputation for success rested entirely on a placebo effect.
CBDPure ensures that its quality control is supreme and because of this, the CBD product produced is absolutely the best on the market. It is a full-spectrum oil and also the most natural obtainable. A customer is able to request the lot number and batch for each bottle of CBD they purchase, should they so desire.
Why I, Maximus, Use CBDPure Oil
This post is a small gesture to honor the gift to me by CBDPure. My life and my struggle with pain has been well-documented on this website and the astonishing changes that have occurred.
If one measures the standards used to produce CBDPure, on any level, there can be little doubt that it is comparable with the very best in the industry. In the past, that was responsible – or so I believed for the cost of the product to be somewhat higher than most. In fact, using the standard costing method it was $0.133 per mg per 600 bottle.
All of a sudden, this was turned on its head! In January 2020, the company, demonstrating a strategic boldness hitherto unheard of in the industry, slashed the price of CBDPure to earn it the designation of TOP CBD in the WORLD! The 600 bottle now sells for $54.99 or $0.09 per mg! This on top of the astonishing number of tests and standards it applies to CBDPure.
How does CBD Work?
CBDPure contains CBD which is the principal cannabinoid found in the hemp plant. When ingested, the cannabinoids of which there are at least 113, bind to the receptors of the human endocannabinoid (EC) system.
What is remarkable in terms of pharmacology, is that these cannabinoids are not toxic at all so that tests have been carried out where patients have taken as much as 1500 mg without any ill-effect. You have the rare situation where a marvelous drug does not have to be rationed.
The EC system is an intrinsic and very important part of human physiology. In other essays on this site I have delved deeper into the actions of the EC system.
I have chosen to use CBDPure to manage my pain, anxiety and sleep issues with great success. Please read my other essays on this site which touch on my own health issues.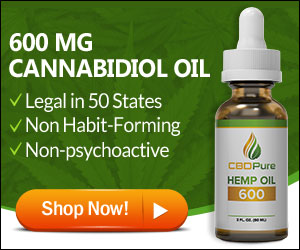 Why not click on the orange 'Shop Now!' button and you will be transported directly to CBDPure's Homepage where you will find a treasure trove of CBD products!
CBDPure additionally have backed up their rhetoric with an unconditional 90-Day Money Back Guarantee.
Some Success Stories from Satisfied Clients
"I have delighted in swimming since I was a child and I swam competitively later. After a break, I am now back swimming 5 days a week with no pain. CBDPure has been a godsend to me." (paraphrased)
Joshua (Worcester, MA)
"CBDPure has enhanced my son's life in astonishing ways. His good-health and happiness have been a blessing". (paraphrased)
Tyra (Decatur, GA)
"Music is my life and my guitar the manifestation of that perfectness. Now I can play again and CBDPure has helped to bring that desire back for me. I am now in a band and playing every week".  (paraphrased)
Collins (Dodge City, KS)
"My fear was that CBD would make me feel 'zonked' so I did not every try it out. Now I feel – if only had tried it sooner. CBDPure has now been incorporated into my regimen of health supplementation. My life has become brighter and more joyous – Oh happiness!"  (paraphrased)
Zhu (San Bernardino, CA)
Organic Standards
Unquestionably, many people are now committed to following an organic way of life. Particularly in the food industry of course but also in the health and wellness industry.
Astonishingly, the US government, via the Food and Drug Administration (the FDA) does not recognize CBD as food, consequently it cannot be called organic. No matter what one does. It therefore cannot be called organic or officially certified.
CBDPure has nonetheless certified that the standards listed below are followed:
Soils are tested for toxins.
Only non-GMO seeds are planted.
Pesticides and herbicides are never used.
Only chemical-free natural fertilizers are employed.
Harvesting the plants is done by manual and mechanical methods.
CO2 extraction only is used.
During bottling only naturally extracted hemp-carrier oil is employed.
CBDPure strives at every stage of the process to operate its business surrounded by the spirit of organic standards. They use the route of the  least possible processing at all times, laboratory tests are always recorded and can be viewed by anyone, at any time.
Should you have any question concerning the above, or in fact, anything stated in this essay, please don't hestitate to contact Maximus.
Conclusion
It has been a pleasure interacting with you. CBDPure is an extraordinary product that has introduced a new dimension into my life. I personally believe that there must be countless other people just like me, who could benefit from the excellent quality and towering standards of CBDPure. It is unquestionably the best CBD oil in the world.
My very best wishes to you all,
Maximus.
FDA Disclosure
Please note that the statements above, with reference to CBD and CBDPure have not been evaluated by the FDA and are not intended to diagnose, treat, or cure any disease. Users should not disregard, or delay in obtaining, medical advice for any medical condition they may have, and should seek the assistance of their health care professionals for any such conditions.