Who Rules the World?
"Anxiety is the Zeitgeist of the 21st century" – a quote of mine, although hardly that astute or mind-blowing, will I believe, live on long after I have shuffled off this mortal coil (poppycock!) I can say it without contradiction because Google has estimated that there are almost 600 million sufferers, world-wide, with this condition. Anxiety definitely rules. My ambition is to convince you that using CBD oil may help you. Consider the challenge – there are 600 million desperate people out there, surely with my mantra ' What is the Best CBD oil for Anxiety' – I can help at least one?
Anxiety in the Population 
In the US, Google has offered more information: 18.1%, or 40 million adults aged between 18 and 54 are affected by anxiety – these are truly shocking figures when one remembers that we have known for decades that anxiety is a ferociously debilitating illness. And the sad thing is that it makes these monumental figures even more credible because we know too that the poor, the undernourished, and suffering are even more likely to experience torment from this contagion.
Anxiety disorders are the most common and ubiquitous medical conditions in the United States.
I am keen to get stuck into the subject of Anxiety because it is obviously a colossal problem affecting a vast slab of the human population. Granted, access to CBD is quite clearly limited but you will surely, in time, see my point that it is a magnificent way to treat Anxiety Disorder. I am living proof of it.
Is Depression an Anxiety Disorder?
To many folk in the western world, especially the elderly ie those from my generation, anxiety has had an inoffensive, almost harmless reputation. Men rarely felt anxious – it was something the ladies experienced, but occasionally… In fact, according to more figures, this time published by the World Health Organization (WHO), this is ludicrous. Anxiety disorder is a grave medical condition.
The United Nations statistics have, quite surprisingly, added Major Depressive Disorder or depression – as a part of Anxiety to their figures. On this site I shall always separate anxiety from depression. From my point of view and I am no psychologist, they are similar in many ways but so obviously different and why the UN should juxtapose them is odd. I for one have experienced anxiety but I am certainly not a depressive. Depression is like a gaunt giant's castle that looms darkly over its millions of subjects, but Anxiety is complex enough to be treated as a separate province. And pretty cheerless too.
As mentioned above I am a sufferer of Anxiety Disorder. Friends and acquaintances, I know might scoff at this information. But it is true and I am confident that had I to stop my daily CBDPure dose, it would return with added venom.
What are the Types of Anxiety?
Here are the five major types of anxiety disorders as shown in Google. I have used Google as a benchmark because to most people its opinion is significant.
Generalized Anxiety Disorder
Social Anxiety Disorder
Obsessive-Compulsive Disorder (OCD)
Panic Disorder
Post-Traumatic Stress Disorder (PTSD)
The five divisions are important in another sense because of a notable study on CBD (Esther M. Blessing et al, Cannabidiol as a Potential Treatment for Anxiety Disorders. Neurotherapeutics doi:10.1007/s13311-015-0387-1). Please see more on this study later.
Many members of the public are now broadly well-aware and informed on complexities of the above five. Panic disorder is one such classification. But each of these can cause the most egregious pain. Diagnosis and treatment are not my field but I am here to offer help via CBD. However, I feel that, at the very least, I can offer a layman's explanation of anxiety:
What is the meaning of anxiety?
It can be baffling and paradoxical – not at all like the glib descriptions found in some family magazines. Its etiology – ie its cause, is really unknown because it is always an amalgamation of issues. It also can cause more pain and suffering than many physical diseases. Although one thing is fairly well-known is that it tends to arrive early, often in the late teens. If you look at the five anxiety types listed above, what is interesting is that they are essentially very different conditions however, at times their symptoms can be very similar. Added to that, patients inside each category are wholly different from each other. As I said at the beginning of this paragraph – the condition can be baffling and paradoxical.
Anna Karenina Principle
An eminent psychologist once said, "All non-anxious people are alike, but every anxious person is anxious in their own way – to paraphrase Tolstoy." His famous book "Anna Karenina" of course begins, "All happy families are alike, each unhappy family is unhappy in it's own way". And this has actually lead to the Anna Karenina Principle.
What is most disappointing I believe, is that anxiety responds very nicely to treatment and professionals estimate that only about one-third of sufferers actually take the step. From my experience, allied to masses of self-awareness – or so I fondly believe. It took away the mental stress and replaced it with an all-embracing calmness and self-confidence that even years later, still supplies me with a profound feeling of amazement. And joy, I might add.
So, if you do experience the following symptoms as a group – go and see your GP. He could then put you in touch with a clinical psychologist – who are, as a rule very good and can guide you in the right direction. I have also found that they, typically, have a positive attitude to CBD.
Please look at the following and see if any apply to you. Obviously, tiredness on its own is hardly cause for concern but if a number of others are added then please pay your doctor a visit.
Apprehension and foreboding
Tiredness
Extreme and frequent headaches
Tension
Poor sleep
A feeling of agitation and even fear
Moodiness and grumpiness
Queasiness and perhaps vomiting
Lack of joy
Unhealthy interest in death and oblivion.
Anxiousness
An amorphous feeling of worry or fear and of course, terror.
Extreme weariness
Headaches
Feelings of panic
Irritability
Tension
Restlessness
Galloping heartbeat and breathlessness
Cold and sweaty hands and feet
Sleep disturbances
Muscle aches and pains
Self-harm among teenagers and young adults
Use of alcohol and drugs
Eating disorders among teenagers and young adults – anorexia, bulimia or binge eating
Nausea
Loss of libido
Dry mouth
The call of Death. Usually distant, but often near.
Treating Anxiety Disorder
What the layman should keep in the forefront of their brain is that the five Anxiety Disorders listed above may symptomatically be similar at times, but each is entirely different and to add to the complexity, each patient within each type of disorder is also entirely different. No wonder the mental health problem is such a world-wide calamity!
Anxiety usually makes an early arrival in one's life, and it is common for most people to develop symptoms before their 21st birthday.
We have found that approximately only one-third of those suffering from anxiety actually go for treatment, even though the condition is eminently treatable.
Like any mental illness, it's etiology is a mystery. Usually no one knows exactly what causes it – and it's always a combination of things, changes in your mental functioning, your genetic inheritance, biological differences, changes in your environment, tragedy, the stress of daily life, to name a few.
Obviously, one does not simply exchange any medication prescribed by a doctor or psychiatrist and use CBD. That is nonsensical. Rather, ask his opinion and perhaps begin by exchanging some pharmaceuticals with CBD. This is what I did, through my doctor, and it worked.
Can CBD help Anxiety? A Scientific View
Earlier I referred to a study on CBD. "Cannabidiol as a Potential Treatment for Anxiety Disorders" is the title of the review by Blessing, Steenkamp, Manzanares and Marmar.
For their review of research they searched the databases of MEDLINE (PubMed), PsycINFO, Web of Science Scopus, and the Cochrane Library database for papers published up to 1 January 2015.
The aim of the review was to define CBD's feasibility as a treatment for anxiety disorders and the researchers did this by finding support from all relevant papers found in the databases.
Fi

ndings
They found strong support for CBD as a treatment for all the major groupings of Anxiety Disorder all when administered "acutely". This is science-speak for the CBD when given to patients in the short-term. They then mention that few studies had looked at "chronic" dosing with CBD, which means for a period longer than six months. Again, they also discovered that data corroborated CBD affects in an anxiolytic (ie reducing anxiety) function and also when administered in the short-term.
What does this all mean? Quite honestly, the consequences are huge. It means that even though the bureaucrats will always be on hand to limit progress, the researchers have said, in the unflambuoyant way all scientists operate, that CBD is actually relevant and not some hippie visualization of a green juice that will defraud the gullible, and it should help in your situation.
This would be a good time as any, to look at the pharmacological treatments available for Anxiety Disorder:
Serotonin re uptake inhibitors
Serotonin-morepinephrine re uptake inhibitors
Benzodiazepines
Monoamine oxidase inhibitors
Tricyclic antidepressant drugs
Partial 5-hydroxytryptamine (5-HT)1A receptor agonists … and more.
There are some very potent drugs listed above. Granted one could never discard them and only use CBD – that would be absurd. But perhaps there could be some progress by exchanging some of them with CBD. Here one should consult with their doctor or psychiatrist if they are receiving prescription medication. It has worked for me.
In the words of the scientists, "The substantial burden of anxiety-related disorders and the limitations of current treatments place a high priority on developing novel pharmaceutical treatments." And I believe, there are millions of us who support their sentiments wholeheartedly.
One further statement from their review that is of importance is that CBD has been shown to cause no ill effects when taken up to 1500 mg/day with no "psychomotor slowing, negative mood effects, or vital sign abnormalities".
Why CBDPure?
CBDPure is the finest CBD in the world of that there is no doubt. I use it and have always used it. Should you seek more information, please go to my post on this site called "ORDER CBD ONLINE", click on a banner and you will be linked immediately to the CBDPure homepage. The site is a mine of information and there you can research the product as vigorously as you like.
CBDPure Hemp Oil 600
I have always used the 600 bottle
What I can suggest then in a couple of sentences, please take this opportunity to look into CBDPure – it is the very best in the world (just check at how rigorously it is tested) and it sells at an astonishingly sharp price. At $0.09 per mg for the 600 bottle, I say give it a whirl!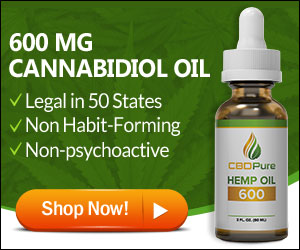 Alternatively, take the more direct way and click on the orange 'Shop Now!' above and you will be taken directly to CBDPure's Homepage where you can obtain direct personal advice and compare and contrast the different product sizes and receive other fascinating information. Additionally, you will surely be astonished that such a high quality product can be sold at such a really modest price.
If you are interested, there is much more information available here on this website about pain, and especially about neuropathic pain and of course, about CBDPure. Even how I came to use CBDPure in the first place. It was serendipitous to say the least.
Conclusion
My good wishes to all my readers and may you all heed, "What is the best CBD Oil for Anxiety?" It is my hope that this still "early" site will be part of an inexorable tide that will drive CBD across the world, so at least and finally, most of the 600 million anxiety sufferers have had an opportunity to experience it's gently stabilizing character. Remember with CBD, sometimes less is more, so don't take a heavy dose without first checking if less, perhaps, could be more efficacious.
If the idea moves you, please place a comment below – I would enjoy that.
Yours aye,
Maximus
FDA Disclosure
Please note that the statements above, with reference to CBD and CBDPure have not been evaluated by the FDA and are not intended to diagnose, treat, or cure any disease. Users should not disregard, or delay in obtaining, medical advice for any medical condition they may have, and should seek the assistance of their health care professionals for any such conditions.