Order Online and join the CBDPure Family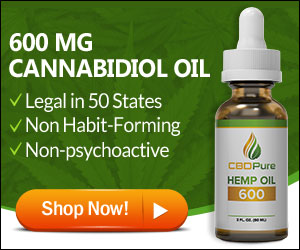 Please click on the

   

"

Shop Now" b

utton

above, it will take you directly to the CBDPure Homepage!
Experience CBDPure Oil
CBDPure, by any measure, is arguably the finest CBD oil in the world! Their website is chock-a-block with excellent advice and information – a treasure trove for the CBD connoiseur, plus you will find the full range of CBDPure bottles and the new soft gels to purchase. You will also save 10% on your first order and instantly  receive a CBDPure Coupon! 

High Strength CBD oil in the the UK!
Note that along with the US operation, CBDPure also have a UK office.
Make use of the "Lets Talk" feature on the site and ask for the address of the store in Blackpool, England, or, see the footer of the CBDPure homepage for details of the address.
CBD Dosage for Pain – Advice from your mentor, Maximus
Let Maximus advise you, he has considerable experience in the field. For more on his background and character, and indeed the entire CBD industry, please take time to skim through the posts on this site.
Pain is of course relative,If you are experiencing pain don't hesitate and start immediately. But please start with a mild dose. Consuming a strong dose could be counterproductive. You could be someone who is suffering from pain and anxiety – it has been noted that on occasion, low doses of CBD are anxiolytic ie they reduce anxiety, whereas a high dose will have the opposite effect (in medical terminology it would be called anxiogonic). I have also found that high doses sometimes produce insomnia. 
Pain is of course relative, so if you are suffering from intense pain then my advice in the preceding paragraph does not apply. I know of cancer patients who have taken 400 mg/day.
I personally vary my dosage and can take as little as 10 mg twice daily, and I weigh 154 lbs or 70 kg. This 10 mg is flexible however, because I do on occasion triple the dose, but infrequently.  Try and aim for balance, an optimum, because it can work out to be expensive – a 600 mg bottle of CBDPure could theoretically last me 30 days if all goes well.  The scientists referred to in my post on Anxiety, Blessing et al, have shown that "CBD causes no ill effects when taken up to 1500 mg/day". That is a truly massive quantity.
ATTENTION – ATTENTION – ATTENTION – ATTENTION – ATTENTION – ATTENTION!
Please note that CBDPure has, of January the 21st, 2020, reduced the prices of many of it's products. The price of the 600 bottle, my bottle of choice, is now the same as the 300 bottle's previous price ie $54.99. Please click on the ORANGE 'Shop Now' button above and proceed directly to the CBDPure Homepage. For the finest CBD available, this new price is truly astonishing – making it 9c per ml! 
More Practical Advice
Read too the post "CBD and Neuropathic Pain" where more can be found on the simple scientific truth that one cannot overdose on cannabis – and here I  mean this in the sense that you cannot take a lethal dose. In any event CBD is not a narcotic.
CBDPure always displays the weight of oil in the bottle prominently on the side. Place the selected dosage/quantity of drops under your tongue using the dropper and hold in your mouth for a minimum of 60 seconds. Called the 60 second  Rule. This allows for optimum absorption through the blood vessels found underneath the tongue. Then swallow.
Please Note: This site, cbdmaximus.com is an affiliate of CBDPure. Consequently if you click and buy, I shall receive compensation from them.
Afore ye Go – CBDPure Taste?
Some may recognize the famous Bell's slogan. One request please. All comments are welcomed on this site – could you please leave them below. Maximus is particularly interested in whether the taste of CBDPure found favor with you? If you have read his own opinions, you will recall that he enjoys the taste – how about you?
Affiliate Disclosure
Should you continue on and buy CBDPure products through this website means that I shall receive an affiliate commission used for the maintenance of the site. Please note that all opinions expressed here are mine alone and do not represent the opinions of CBDPure.
FDA Disclosure 
Please note that the statements above, with reference to CBD and CBDPure have not been evaluated by the FDA and are not intended to diagnose, treat, or cure any disease. Users should not disregard, or delay in obtaining, medical advice for any medical condition they may have, and should seek the assistance of their health care professionals for any such conditions.