A warm welcome to one and all in your search for best CBD oil for the elderly. Consider yourself  fortunate and even blessed to have landed up on this site. In your world, perhaps of chronic pain, anxiety and sleeplessness – this site, because of Maximus and CBDPure, may be able to offer you advice and even succour in your time of need.
Maximus your mentor 
Maximus plays a colossal role in the website – particularly as it is focused on the elderly, and he is unquestionable an elderly fellow. But far more than that, because he knows what pain is and what a  torment it can cause.
CBD Oil and Chronic Pain in the Elderly – A Survivor's Tale
Allow me to hand you over directly to Maximus himself, "I am a survivor and I know that living with chronic pain is arduous. It is the essentialness and unrelenting nature of pain's character, which a philosopher in another context, may perhaps, even have found interesting – were it were not for the excruciating realness of pain itself. It is so sore and it never stops.
Chronic pain is a sensory phenomenon with a considerable impact on the lives of millions – it affects people in a cognitive and behavioural way, plus in an emotional way through one's mood, one's sense of well-being and of course, one's energy levels.
Chronic pain is extremely common among older people – slightly more than 50% of people older than 65 years in the Western world are sufferers, making this a vast and crippling public health and general socioeconomic problem. For example, I have read recently that by 2035 a quarter of the European Union will be older than 65, and if half are incapacitated – this will have a devastating impact on the prosperity of the region. The trend is ever upwards so with each passing year, more and more are affected by pain. Remember that the entire Western world and Japan is an aging population overall.
We see patients suffering from cancer and its treatment, millions who have joint problems and those who have had replacement surgery, those with vertebral compression fractures, cardiovascular disease, diabetic neuropathy and general neuropathic pain, osteo and rheumatoid arthritis, severe headaches, depression, menstrual pain, renal disease, inflammatory bowel disease, etc., etc.  and here I would like to add anxiety – never scorn anxiety, ever. Some folk – and again I add, it's often the seniors, who have to endure chronic anxiety, equal in suffering to any actual accompanying physical pain.
My own illness as an older man left me with insomnia, chronic pain, a catheter, tube and bag. Personally I have encountered many people, young and old, who have suffered greater pain than I ever had – but I have been fortunate, other than my abdominal pain, headaches and arthritic knees, I have no real joint pain and am consequently able to exercise within certain parameters. Most importantly, I was introduced to CBD Oil – and the lights came back on!
Exercise was very important to my slow rehabilitation CBD as was the awareness of the cognitive and behavioral aspects of my condition. Finally, and really only after I was able to take CBD, did I begin to feel that I could eventually prevail – to gain the upper hand.
It was a glorious and fortuitous gift and my interest in natural remedies prompted me to use CBD oil. The choice then was more limited and it was quite by chance, I suppose, that I was given CBDPure. To some astonishment, I must be honest, pain diminished and to this day appears to be largely controllable if not benign – although it does return on occasion with a quite vicious thrust to the belly and, or, the head in my case.
Drug Management of Chronic Pain
I have fortunately enjoyed wise and perceptive advice from many doctors and can thus honestly advise all sufferers to heed their instructions. Drug management is fraught with danger because it includes the very treacherous opioids – a class of drug that sits in its bleak giants castle ready to deliver chaos on the trembling peasants below. I too have been given an opioid when my doctor observed that my suffering had become too great. The rapid sessation of pain was astonishing. Fortunately in a way, it also gave me truly awful eye-popping constipation. So bad was it, that the positive influence of the opioid almost came to nothing and this negative memory of the experience will remain with me forever. I have an informative essay on this site called 'A Brief History of Opioids and Painkillers' – why not give it a whirl?
Suffice to say that I am no supporter of opioids when I consider the dreadful carnage they have caused, principally, in the US but also in Canada, Germany, Denmark and Australia.
Other drugs are also prescribed: from the popular Paracetamol that is used for mild to moderate pain – one should even take care here because unintentional overdoses are not uncommon. Then there are the NSAIds – also prescribed to me and used for a short time in my case. Later there were the Anti-convulsants, they caused swelling of my legs (edema), especially the ankles and feet.
Best CBD Oil for Pain Relief
Finally we come to CBD Oil. It is non-narcotic and obtained from the hemp plant ie it is a strain of the Cannabis sativa plant species but is distinct from the species producing tetrahydrocannibinol (THC).  I know that people of my generation will certainly worry about this. To reassure my readers: a federal law confirms that hemp is legal as long as it contains less than 0.3% THC.
Should you have arrived directly on this post without first going to the homepage, the 'Ultimate Guide to CBD Oil', why not pay it a call. It has some very good stuff on how to choose a top-quality CBD Oil + 'Your CBD info source, Maximus of course!'
In my own experience of fellow sufferers – those who obtain almost immediate and even astonishing, relief and improvement after taking CBD oil, are those experiencing:
Anxiety
Depression
Poor and broken sleep – but be careful to start with a small dose. I have known folk take too much so much so that their sleep is further impaired.
A debilitating weariness cause by constant pain
And what I call, cognitive dullness. This comes eventually to most of the elderly and includes forgetfulness and what a grandson calls 'slowness upstairs'. (I do believe he may have been talking to me!).
To give you some idea of the size of the CBD industry: for a long time experts have forecast that the overall Cannabis industry would reach $20 billion by 2020. Now a CBD explosion has occurred. A Forbes study has forecast that the CBD business alone could reach $16.6 billion by 2025. This was followed by another study by the Brightfield group which predicted a figure of $22 billion by 2022.
These are financial forecasts it is true, but surely the driver of this prosperity must indubitably be the marvel that is CBD.
Above we have looked very broadly at drugs used to treat pain in the sick and the elderly, and even the largely useless Paracetamol can be overdosed. So what about CBD oil?
And now for the good news – the scientists referred to in my post on, ' The Best CBD Oil for Anxiety': Blessing, Steenkamp, Manzaneres and Marinar have shown that "CBD causes no ill effects when taken up to 1500 mg/day". That is huge – that would almost mean you'd have to be drinking it like pop! Please read my other posts and especially the 'Order Now' page which has advice on dosage and can further elucidate you.
Finally, we must look into the use of CBDPure, without doubt the finest CBD Oil on the market. I first used CBDPure because it was a gift and I was a very sick man. But I am no fool and I have since looked carefully at their specialization, at their professionalism and experience. These people cannot be faulted in their commitment to quality and consistency. Most importantly, since January 2020, CBDPure is selling their 600 bottle at the astonishing price of $54.99 or @ $0.09 per mg! To elderly people like me, living on a tight budget this brings bags of joy! 
I would be most grateful, if you, as a last favour to me – go to the 'ORDER CBD ONLINE' page on this site and there click on the banner for CBDPure. You will then be transported directly to the Homepage of CBDPure and, at your leisure, you can study the facts and figures associated with this wonderful product. It saved my life. Alternatively, why not just click on the orange 'Learn More' pictured below. It will also take you to CBDPure's Homepage.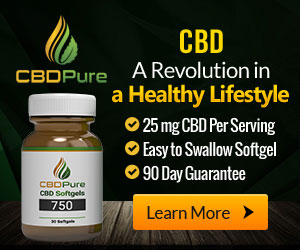 Conclusion
So this has been a little yarn about my life-experience with pain, and seemingly, it could end happily. For the time being that is, and that is all any sufferer of pain yearns for. My journey has left me with a colossal desire to convince you all to try CBDPure. Read the post on "What is the best CBD Oil for Pain" on this site. It will give a little more of the science behind CBD oils success.
Perhaps not all of my readers will savour victory over pain but, perhaps, "God Willing" it could be you."
Maximus, Master Mariner Unlimited.
FDA Disclosure 
Please note that the statements above, with reference to CBD and CBDPure have not been evaluated by the FDA and are not intended to diagnose, treat, or cure any disease. Users should not disregard, or delay in obtaining, medical advice for any medical condition they may have, and should seek the assistance of their health care professionals for any such conditions.